Peace and Blessings of God Almighty be upon you and your family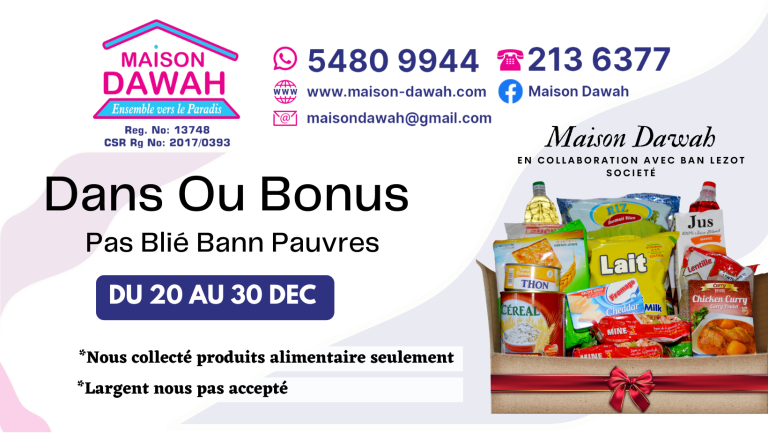 Maison Dawah, a non-Governmental Organization (NGO), is pleased to embark on this philanthropic project at this time of the year.
Maison Dawah is a socio-cultural and apolitical organization. Among the activities of Maison Dawah we have:
A counselling service for families, couples and students.
Train heads of households how to prepare a family budget.
Liaise with charitable organizations in order to provide financial aid to families in distress.
Depending on our financial resources, we offer modest social aids in terms of food, tools and equipment etc.
Participate actively in Interfaith Dialogue in order to contribute towards nation building.
In this context we should like to share with you what Maison Dawah is doing about the above-named project – Dan ou Bonus Pas Blié Bann Pauvres –in connection with its Pilier Social. In fact, this is the eighth year that we are embarking in this national project in order to provide relief to our compatriots and their families who are in distress.
As we are approaching the festive period at the end of December, we are catching this opportunity to organize a collection of foodstuffs (non-perishable only) during the period Monday 20 to Thursday 30December 2021. These will then be sorted out and packed for distribution to poor families around the island. Our objective this year is to be able to distribute food packs worth Rs 1000 to about 600 families, God willing.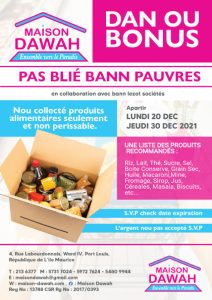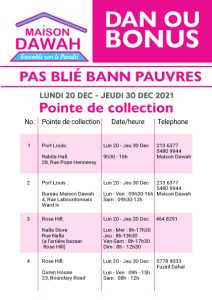 We are therefore appealing to your sense of generosity to contribute in this noble work. Our less fortunate compatriots will this get a privileged opportunity to feed themselves and their children well during this festive period of the year – this humanitarian intervention will also bring joy in their heart and smile on their face, especially so after the Covid-19 and Wakashio disasters in our country.
May God Almighty bless us all in this noble activity that will increase brotherhood among us, and may He protect us from Covid-19 and other calamities.